Create Your Plan to Improve Safety Buy-in
Your workplace doesn't need more safety rules and procedures. What you need is more of your people to buy-in to the safety program.
To gain both employee and management buy-in, you need to:
consistently promote your workplace as a safety-minded organization,
ensure that supervisors and managers support and align with the things you do, the things you say and the way you engage your people,
messaging and communications have to support your safety program targets,
safety meetings have to help build engagement and motivation for safety.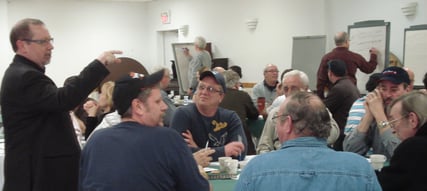 If you want to drive better safety culture, this is necessary.
But, how are you supposed to know how to do all that?
The good news is that no one expects you to. That's what Kevin helps you do.
If you have been getting fairly consistent results in your safety program, if your results have been getting incrementaly better, or even if safety performance has recently stalled, you can Accelerate Safety.
---
"Our level of employee engagement was disheartening. It was necessary
to push the reset button. The benefits were two-fold: the message was powerful,
and it demonstrated to the employees that they mattered."
---
The 3-part approach to Accelerate Safety.
| | | |
| --- | --- | --- |
| | | |
| ASSESS | PLAN | ACCELERATE |
| The team talks about issues to help identify gaps. Then, they assess strengths to begin building their plan to improve safety performance. | Develop objectives, policies, communications strategy and implementation schedule; a step-by-step, easy-to-implement plan. | Ongoing support through every step of executing the plan. You and your team will adjust and fine-tune as you go - for maximum acceleration. |
Your plan, your way.
Working directly with the safety committee, management, and supervisors you will engage in multiple onsite planning strategy sessions. Through the facilitation process, you and your team will assess the strengths and gaps in your existing safety program. To support the onsite sessions, there is a mix of telephone and video conferencing to keep the program moving forward.
Then, your team moves on to the strategy process. This is where you identify the objectives of your plan, create policies to ensure support of the plan by supervisors and managers, what and how you will communicate (and how often), and your timeframe and milestones for the project.
When your plan to Accelerate Safety is ready to launch, Kevin will stick with you while you execute it - using more in-person and virtual sessions for your team to make adjustments as you go.
---
"Kevin has been a fabulous resource as I work with our managers
and supervisors to create a culture of greatness that includes attitudes of
resilience, leadership, service, gratitude, and safety!"
---
Bring your people together to rally around safety. Get your management team on the same page. Build better buy-in to safety. Raise awareness of safety on the job and create a better safety-focused culture.
Take the first step.
First, let's talk. Then, let us deliver a proposal that outlines everything you and your management team need to know to be able to make a decision. Let's get working on a plan together, one that builds momentum to Accelerate Safety.