Coaching & Consulting to Improve Buy-in
To get employees to buy-in to safety, you have to address loyalty, job-satisfaction, teamwork, happiness and motivation. Otherwise, you are going to have to chase your people into compliance. And you will be frustrated.
Happy people who love their jobs do better work, get better results and do what is necessary to stay safe.
Your workplace doesn't need more safety rules and procedures. What you need is more of your people to buy-in to the safety program.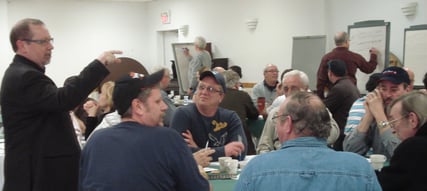 You need to:
improve job-satisfaction of employees,
value your people,
ensure that supervisors and managers support and align with the things you do, the things you say and the way you engage your people,
build engagement and motivation.
But, how are you supposed to know how to do all that?
That's what we help you do.
---
"Our level of employee engagement was disheartening. It was necessary
to push the reset button. The benefits were two-fold: the message was powerful,
and it demonstrated to the employees that they mattered."
---

Your plan, your way.
First, we help you engage in multiple onsite planning strategy sessions.
Then, the strategy process where you identify the objectives of your plan, ensure support of the plan by supervisors and managers, and what you want your people to do.
Then, you launch. And, we stick with you while you execute and make adjustments as you go.
---
"Kevin has been a fabulous resource as I work with our managers
and supervisors to create a culture of greatness that includes attitudes of
resilience, leadership, service, gratitude, and safety!"
---
Take the first step.
Let's talk. Let us deliver a proposal that outlines everything you and your management team need to know to be able to make a decision. Let's get working on a plan together, one that builds momentum.