Organizations say they want to build a culture of safety and then, what they do about it, is a contradiction.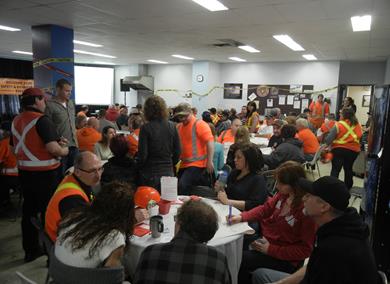 I had the pleasure of speaking at a safety meeting last week that broke the mold of boring safety meetings. They organized a quarterly safety event which replaced their monthly safety meetings. According to the safety manager who organized the event, my book, The Perfect Safety Meeting, played a big part in their new attitude toward safety meetings.
The new, full-day safety events (mini stand-downs if you will) combine outside speakers, group problem-solving and hands-on skills development. A budget was prepared for the first event and OK'd by management. Senior corporate leadership traveled hours by car to attend for the whole day. The cafeteria was decorated with tablecloths, centerpieces, pens, paper, notebooks and refreshments. They even laid-out a teaser-campaign for the next event in 90 days; a full community-wide safety meeting involving the whole town.
The schedule was kept tight. Every minute of the day had a purpose and there were even countdowns during breaks designed to assemble the attendees on time. The day flew by in no time. The energy was high. The participation was like nothing ever experienced before. The response from the meeting attendees was over-the-top. And it was easy - it just took some work to organize.
What Are You Prepared To Do?
Organizations say they want to build a culture of safety but then are not prepared to do the work that my client above did. Strangely enough, companies talk a lot about wanting to keep their people safe. But the measure of organizational success isn't in what the company says – but in what the company does.
Over the years, in conversation with safety managers, supervisors and senior safety personnel, I have compiled a list of the 13 most often-expressed contradictions in relation to developing a culture of safety in the workplace.
Wanting employees to buy-in to safety and to become safety leaders while at the same time conducting uninspired cookie-cutter safety meetings and focusing mostly on compliance code issues.
Wanting to have a strong Culture of Safety but stopping short of investing money to motivate and inspire employees to buy-in to safety.
Desiring to have strong safety managers and supervisors capable of coaching and mentoring employees to choosing safety for themselves while essentially chaining them to their desks filling out forms that rarely get looked at.
Claiming that every employee plays a role in safety but not encouraging senior executives to get out of their offices and press-the-flesh with front-liners.
Inviting new ideas from employees in safety but rarely implementing any of the ideas or even responding to many of them.
Publicly exclaiming that safety-conscious employees are critical to company success but failing to recognize the outstanding safety efforts of employees at safety meetings.
Allowing senior leadership to declare at safety meetings that safety is the most important element to corporate success and then after giving their speech claiming that they can't stick around because they have other "important" meetings to attend.
Advertising for outstanding safety performers but not including senior safety personnel as part of the interview panel during the crucial hiring interviews.
Wanting to build a workforce of safety high-performers but not arming middle-managers and front-line supervisors with basic management skills and training necessary to coach high-performers.
Touting "safety first" at safety meetings but offering bonuses for production speed and early completions.
Claiming to want to be the best in safety but comparing company safety performance against the industry-average.
Making front-line employees pee in a cup while management teams gather for strategy retreats after late-night parties that included open-bars.
Attending industry safety conferences (during work hours) and partying it up making it impossible to respond to an emergency if there were an incident back at work - due to high alcohol levels the morning after.
This list is not meant to be one-sided, to be insulting or to be a put-down to corporate efforts to embrace safety. It is simply an observation of the incongruities of what companies say and and what they do. You can not fix what you do not acknowledge.
There is a difference between working in safety and believing in safety. When you believe in safety, every decision is congruent with that belief - and it is evident to everyone.
In the words of Ralph Waldo Emerson, "What you are, sir, speaks so loudly that I can hardly hear what you say."
And if you want to really consider a new and exciting model for safety events instead of tired old safety meetings, I'd be pleased to be the first speaker for your new safety attitude.