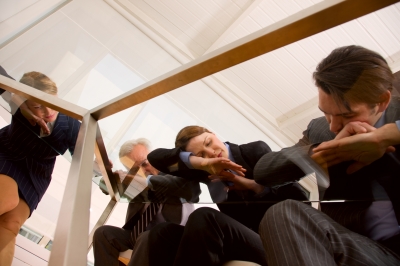 If safety meetings are not fun or engaging for attendees, they won't remember what was discussed. So streamline your meetings in 2018.
Part of the overall strategy for safety communication and meetings should be a requirement to avoid mind-numbing and boring your people whenever possible. Maybe that idea a lone could be your personal mission for 2018. Look, we know it's tough especially when the subject-matter or presenters are boring. So the idea is to find ways to step outside the 'boring and predicatble" safety meeting.
Make it a plan for employees to engage and stay sharp. That means getting rid of boring statistics, figures, graphs and performance chart that you can lay your hands on at them in one meeting. Put it this way, if your safety meeting presentation includes charts and graphs, you're out of ideas. And more importantly, out of touch.
Once upon a time, you attended a boring safety meeting. But that doesn't give you license to do the same to your crews. PowerPoint is the seventh pit of hell. It's Corporate Karaoke – the word-for-word, sing-along regurgitation of every thought in a presenter's head posted on a slide in tiny font type. Your people disengage from the safety meeting the moment you put up a slide with seven lines of type with some boring blue background.
You've got to make safety engaging. If it's not fun or engaging for attendees, they won't remember it. When people engage, they remember. That's a key learning nugget for you to take into the New Year and to help you plan better safety meetings.
Read More