Build momentum in your safety program.
As a respected safety leader, you know that people should want to deliver their very best safety performance without having to be reminded of the rules and the right way to do things.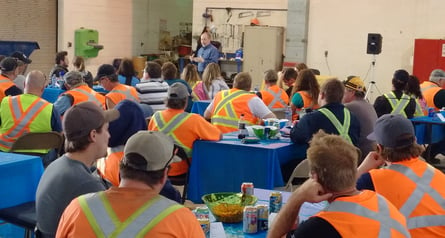 But it's hard for your people to connect to paperwork, process, rules and regulations.
Instead, what if you could inject a little more excitement and engagement into your safety meetings?
What if you had an easy-to-implement plan that could put management and employees on the same page in safety?
What if you could build better buy-in to safety to create a more safety-focused culture?
---
"Our focus in bringing Kevin in was to sustain our excellent safety record.
While we're doing so well, we want to maintain that performance."
---
When you improve the engagement, the buy-in, the perceptions, the participation and the teamwork in safety, you change the safety culture. That's exactly what Accelerate Safety helps you to do.
For 20 years, Kevin has been consulting with organizations facing the same issues and speaking at safety meetings. Now it's your turn. Let's rally your people around safety.
---
"Words can not express the impact Kevin has had on our company.
Would our people have been ready for Kevin a few years ago? No way.
But today he was exactly what they needed to hear."
---
Add a positive, high-energy component to your next safety event by having Kevin speak. Improve the perception and uptake of safety buy-in by having Kevin work with your safety committee and management team over several months to help you develop a guided plan to Accelerate Safety in your workplace.
Here's the 1-2-3 of getting started:
| | | |
| --- | --- | --- |
| | | |
| Contact Kevin | Get A Quote | Accelerate Safety |
| Let's talk about your results, your vision of safety culture, and what you would like to have happen. Then, let's talk about your options. | Safety leadership presentations, engagement, communications and implementation strategies. All the info you need to decide. | Launch your own easy-to-implement plan built around your own core safety values. Increase safety engagement, awareness and teamwork. |
Take the first step.
First, let's talk. Then, let us deliver a proposal that outlines everything you and your management team need to know to be able to make a decision. Let's get working on a plan together, one that builds momentum and accelerates your safety program.