"Rid the world of all safety speakers."
"I have a mission: to rid the world of all safety speakers.
"As much as my mission might make you laugh, it's dead serious.
"Only in safety do we hire speakers to try to get our people to improve their safety performance.
"But, you don't hire accounting speakers when finances are underperforming. You don't hire administration speakers when the paperwork falls behind. So why hire safety speakers when performance drops?
"Truthfully, when you study it, you discover that you don't have a safety problem; you have an employee buy-in problem. And a sad injury story from 30 years ago isn't going to fix it.
"I want to remove the need for companies to feel like they have to go outside to hire a stranger to offer sad stories in a desperate attempt to inspire their people.
"You don't need platitudes. You need a plan.
"That's why I have created the 3-Step Plan that clarifies the safety message, builds supervisor support of safety, and gets employee buy-in.
"It's how you overcome safety performance issues and complacency. Coincidentally, it's also the first step in ridding the world of all safety speakers."
-Kevin Burns
A plan for forward-thinking companies.
Most companies are not ready for our programs.
It's why KevBurns Learning works with the top sixteen percent of companies and organizations who pride themselves on being the innovators and the early adopters (as outlined in the Diffusion of Innovation scale).
While other safety-consultants still insist on doing boring voice-over-PowerPoint slides webinars and preaching rules and compliance, KevBurns Learning is creating virtual roundtables and engaging companies to come together to solve problems.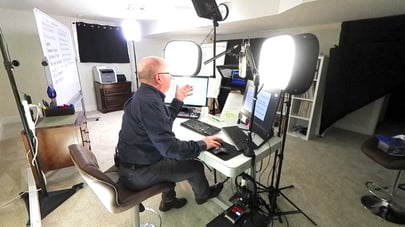 We combine the experiences of multi-camera live interactivity, problem-solving, roundtable discussion, classroom instruction, and fast-paced engagement with attendees.
Our programs are not boring webinars.
Why Kevin Burns gets results.
Kevin Burns doesn't come from the process side of safety. He comes from a management, marketing, and communications background.
As a management and marketing consultant, he has been able to find unique solutions to client problems. And, safety is a communications problem.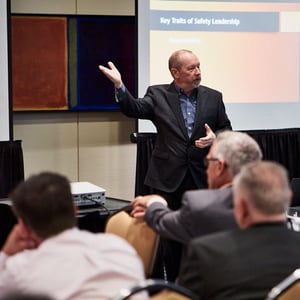 Kevin Burns has taken an exclusive focus on helping organizations think about safety differently.
And more importantly, to show them how to connect with their employees in a way that employees want to become part of the safety program.
Today, that is his focus: clarifying your safety message, building supervisor support, and getting employees to buy-in to safety.