More safety won't improve safety.
Piling on more safety to fix safety complacency just doesn't work. If traditional safety methods could create employee buy-in to safety, it would have been done by now. But, to do it takes a very different set of skills.
Albert Einstein said, "We can't solve problems by using the same kind of thinking we used when we created them."
That's why we created the 3-Step Plan that clarifies the safety message, builds supervisor support of safety, and gets employee buy-in.
It's how you overcome safety complacency.
Programs for forward-thinking companies.
Truthfully, most companies are not ready for our programs.
It's why we work with the top sixteen percent of companies and organizations who pride themselves on being the innovators and the early adopters (as outlined in the Diffusion of Innovation scale).
While other safety-consultants still insist on doing boring voice-over-PowerPoint slides webinars and preaching rules and compliance, KevBurns Learning is creating virtual roundtables and engaging companies to come together to solve problems.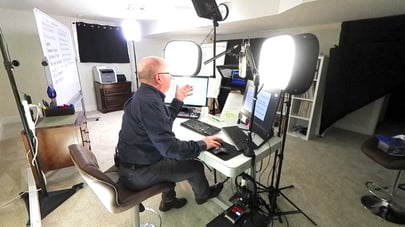 We combine the experiences of multi-camera live interactivity, problem-solving, roundtable discussion, classroom instruction, and fast-paced engagement with attendees.
Our programs are not more boring webinars.
Kevin Burns got into safety by accident; just not the kind that creates a sad story to tell from the stage.
Kevin Burns doesn't come from the process side of safety. He comes from a management, marketing and communications background with a history of many innovations and "firsts" along the way.
As a management and marketing consultant, he has been able to find unique solutions to client problems. Safety is no different.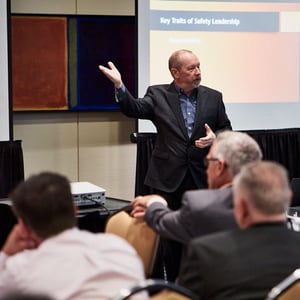 Over two decades ago, Kevin was working with a senior management team to improve their leadership skills. At the end of an engaging day, the CEO suggested to Kevin that his leadership message would be a perfect fit for their front-line employees at a safety stand-down.
Kevin then began to work with their safety department to prepare a similar leadership presentation focused on safety.
It was a home run; a welcome change from the typical compliance lectures and rule-preaching.
That started Kevin's exclusive focus on helping organizations think about safety differently.
And more importantly, to show them how to connect with their employees in a way that employees want to become part of the safety program.
That is our focus: clarifying your message, building supervisor support, and getting employees to buy-in to safety.