Focus on supervisors to get employee buy-in.
KevBurns Learning is the ultimate solution for a safer, more engaged front-line workforce. Our innovative programs help supervisors with better coaching skills and safety performance!
With our micro-learning programs, you take the hassle out of supervisor training! We deliver fun and easy video lessons directly to your supervisors' email inboxes.
And with our global availability in any time zone or shift schedule, everyone has access! Supervisors can continue to improve at any time of the day or night.
Once you've got supervisors who step-up to lead safety, the whole team follows.
Here's how you shift your safety culture from the ground up.
Schedule a call with us.
Give supervisors skills to lead.
Supervisors lead safety.
Meet with Kevin Burns on a
video call to view our process.
Build personal skills to create
trust and teamwork in safety.
Watch your whole team get behind the safety program.
I had high expectations coming into this program and they've all been exceeded. I'd like to see all of our managers and supervisors go through this program.- Chris A.
Leadership is one of the most sought-after skill sets in the workplace.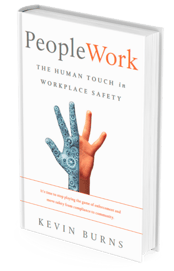 Direct from the pages of PeopleWork: The Human Touch in Workplace Safety come our front-line programs to build safety leadership.
Get your people ready for success! Our video-based microlearning solutions make it easy to equip supervisors and employees with tailored, affordable training. We'll help you get the most out of every member of staff - wherever they are or however big (or small) your team is.
Get everyone on board today and let's bring that workplace learning potential up a notch!
What I got after this program were the tools to get to know my team. It was reassuring to know that others struggle with a lot of the same questions as I had. Getting the chance to interact with them and get their feedback was valuable to me. - Jeremy P.