You need a plan to get better buy-in.
There is a huge difference between safety and safety buy-in. We help your organization get better buy-in to safety.
When you have great buy-in from employees, you don't have those little lapses in judgment or attention. You have better teamwork and a culture of looking out for each other.
But focusing only on safety doesn't result in buy-in. Buy-in takes a very different approach and a plan.
Here is the 3-Step Plan you need to overcome complacency and get buy-in:

How we conduct our 3-Step Plan,
programs, and coaching.
Your budgets are already stretched. Bringing people out of the field for meetings in-person doesn't make sense anymore. The costs for travel, accommodations, meals, and lost time are real, hard dollars.
Our programs are designed to work while your people are still in the field, on the floor; in front of their people.
All of our programs are live-streaming. We combine multi-camera live interactivity, roundtable problem-solving, whiteboarding, and classroom instruction.
We use high-definition pro cameras, lighting, and audio. Our fiber-optic Internet connections ensure great video and audio.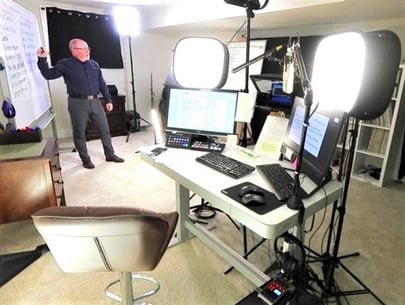 Your people will immerse themselves in a very interactive, engaging program.
These are not boring webinars.
Start with a free assessment of your company's buy-in. Get your questions answered about creating your custom plan to build employee buy-in to safety.