Improve the people who improve safety
KevBurns Learning programs, courses and learning deliver the tools and strategies that bring your people to safety voluntarily.
We show your people how to communicate better and coach better so that employees want to be involved in delivering better safety performance.
There are three distinct steps to improving employee ownership of the safety program:
Get Supervisor Buy-in - because employees do what their supervisors do.
Rally Your Team - clarify your safety messaging and communications.
Talk Positively About Safety - at safety meetings, stand-downs and events.
We use technology to engage your team in safety
We believe that valuable meetings should inspire employees to want to improve their safety programs. To that end, we've harnessed technology and innovation to engage your employees in improving their ownership of the safety program.
Our Internet-based streaming safety programs are far more engaging than anything you have ever experienced online.
We combine the experiences of live interactivity, problem-solving, classroom instruction, roundtables, virtual meetings, and the enjoyment of watching interesting stuff on TV.
From our Internet streaming broadcast center, we help companies like yours to engage your employees in safety.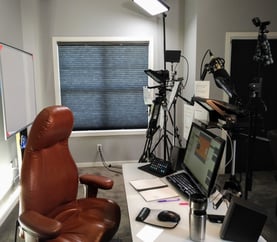 Our live streaming broadcasts use multiple high-definition cameras, professional lighting, video segments, whiteboarding, troubleshooting, problem-solving, professional audio and microphones, and, yes, the occassional PowerPoint slide.
This is not another boring voice-over-PowerPoint webinar.
No one else in safety is doing what we are doing. It is what allows to us to deliver high-quality, engaging programs exclusively online.
Schedule a virtual tour of our facilities. Let's have a conversation about how technology can help your employees to take more ownership of the safety program.