Making Safety Personal
Kevin Burns believes that safety is a personal value. When safety becomes personal, the decisions we make in safety get better. Workplace safety requires a series of practical steps to motivate employees to lead healthy lives both inside and outside of work.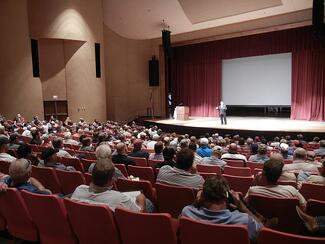 An inspiring speaker with an innovative and positive safety message, Kevin leads by example. At safety meetings, industry conferences and onsite workshops he helps meeting attendees to connect:
Leadership and motivation
Safety and teamwork
Mutual respect and high production
Coaching and efficiency
Mentoring and workforce improvement
From front-line employee to senior management personnel, Kevin helps people change their perspective on safety. Across Canada and the U.S., Kevin shows how a strong foundation of personal leadership creates a championship team of high-level safety performers.
Conference and Meetings Speaker
Kevin provides positive and constructive presentations that engage, enlighten, and empower. A highly informed and entertaining speaker, Kevin is well-versed in all venues:
International safety conferences
Company safety events
Workshops
Frontline safety meetings
Keynote addresses
Kevin's Topics Include:
Safety Leadership: Leadership isn't a job title, it's an attitude. It takes a positive safety attitude to build an engaged culture of safety. Kevin shows how safety leaders can grow at all levels of a company, from frontline crews to c-suites.
Safety Communication: Safety professionals and supervisors learn the communication strategies to build engagement, get buy-in, and make it stick.
Safety Management: The responsibility of a safety manager is to build strong, reliable teams that get positive safety results while reducing incidents, staff turnover, and absenteeism.
Author & Innovator
Direct from the pages of The Perfect Safety Meeting, Running With Scissors, and his latest book, PeopleWork: The Human Touch in Workplace Safety, Kevin offers safety managers and frontline supervisors strategies and tools they need to build positive, participatory safety programs.
Kevin brings his people-centered method directly to you. Through storytelling and examples, he shows how companies across North America are picking up on a new safety message that takes up where ordinary safety programs leave off. Kevin shows you how to go beyond procedures and processes, programming and production to embrace the most valuable component of safety: people.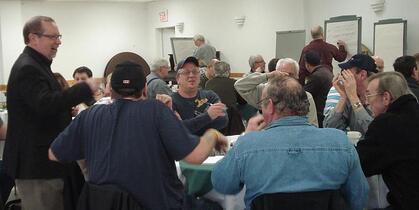 In workshops and presentations, Kevin demonstrates how his proprietary M4 Method can bring the next level of safety to your workplace through innovative:
Management
Meetings
Marketing
Motivation
Find out how people-centered principles can improve the way your company connects, communicates, and interacts. Let Kevin show you how a fresh, new perspective on safety can positively influence outcomes.
Begin the new safety dialogue. Contact Kevin to find out how PeopleWork can change the safety conversation and culture in your organization.