Positive, engaging and energetic safety presentations.
You've been pretty successful with your safety program so far. And as a safety leader, you're proud of your people. But you're concerned that occasionally they let down their guard. Maybe a tune-up and a re-focus on safety is in order. It's time to bring your people together to talk about safety.
Rally your people around safety.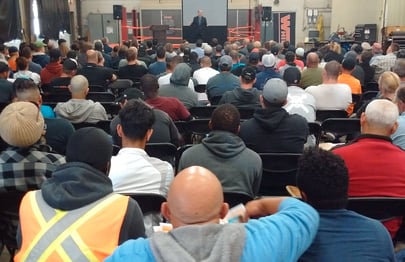 One of the things we hear most often from clients their people were tired of hearing the same voices talk about safety. Is this you too? Mix it up. But, it has to be someone you can trust to work with you - to take their message and wrap it around your culture and the things you've been saying.
And then, make it positive and uplifting – instead of another hurt-at-work story. Someone who can bring some energy, new perspectives and teamwork. Someone to encourage your people to step up and be safety leaders. And make your safety meeting fun for a change.
---
"After just an hour with Kevin, our guys now fully understand
and accept what we've been trying to tell them for over a year."
---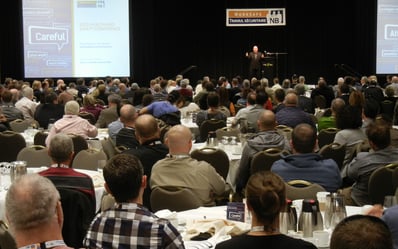 For 20 years, Kevin Burns has been speaking at safety conferences, company safety events, and front-line safety meetings. Kevin helps to improve employee ownership of safety, personal leadership skills and teamwork.
You're not just buying a speech. You're partnering with someone who works with you to compliment your existing safety program. Kevin aligns his presentation to wrap around your corporate values.
---
"Kevin's message lends itself to any organization that wants to improve
service quality, safety culture and peak performance
by emphasizing the importance of its people."
---

Bring a new perspective and energy to your safety program.
Make your next safety event positive, engaging and high-energy.
Still need more?