Are you frustrated with your safety performance?
Were you doing great but now incident numbers are inching up?
Are your employees tired of hearing the same safety reminders?
Do your supervisors want fresh safety topics for their crew huddles?
Tired of gut-wrenching stories of injury and want a positive focus on safety?
Do you want your people actively looking out for each other and speaking up for safety?
Do you wish employees could see their win in getting behind the safety program?
We believe that you deserve to create a culture of safety that every employee wants to get behind and be proud of.
We understand your safety challenges because we've been working with companies just like yours for the past 25 years. Over that time, we've helped thousands of companies and their hundreds of thousands of employees to see safety in a way that resonates with them.
52 Benefits of Safety is a video series dedicated to front-line employees and their supervisors. No more fumbling around for new things to discuss at safety huddles. No more complaints from supervisors that they need fresh topics. No more eye-rolling from employees when the discussion turns to safety.
52 toolbox talks that change the conversation (here are 3 of them)
To keep your team engaged in safety, you need to keep their attention.
And the most efficient way to keep attention is to talk about how safety benefits the employees. Who doesn't want to talk about "what's in it for me?"
Too many safety conversations are focused on what the company needs them to do. But that's only what the company gets.
52 Benefits of Safety
delivers:
52

reasons to get behind the safety program.

52

ways that employees benefit directly from embracing safety in their daily work.

52

weeks of videos delivered one per week.

52

safety moments to talk about how employees benefit from safety.
Even the most safety-resistant employee can't possibly have 52 excuses for NOT getting behind safety.

Hundreds of front-line supervisors had input into the video series.
Over a two and a half year period, our client supervisors have been making suggestions for how safety benefits their employees. It was such a powerful collection of benefits, we created a video series to share with every organization.
With each video running 2-3 minutes long, your investment is less than $48 per week to have author and professional safety speaker, Kevin Burns, deliver a safety moment every week for a year.
($48 is what you would spend on coffee and donuts for a dozen of your people at a safety meeting.)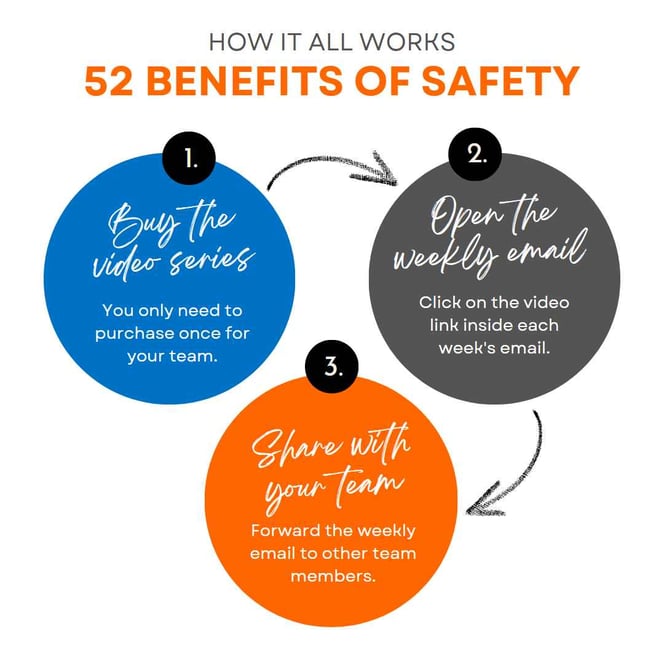 52 weeks of safety inspiration and motivation
No more thinking about what to talk about. No more regurgitating the same boring safety topics. No more watching the eyes roll and employees disconnecting from safety meetings.
One full year of safety videos. A new video each week by email. Only $2495.00

USD

.
52 Benefits of Safety is Copyright 2022. For internal distribution only. Not to be shared outside of your company. For multiple locations, please purchase separately for each location.