52 Reasons Why Safety Benefits Employees
A sad injury story from 30 years ago, and graphic images of workplace accidents, aren't going to fix safety performance. Don't make your employees feel like they're sitting through a death march every time they attend a safety meeting.
Introducing the

52

Benefits

of Safety

Video Series
We answer the age-old employee question: What's In It For Me?
52 Benefits of Safety ensures that your employees no longer tune out safety. Instead, you create engaging and inspiring conversations that employees can't wait to have. Because it's all about what THEY get from safety.
52 Benefits of Safety is a weekly video program lasting 52 weeks (yep, one full year). Each week, we send you a new video and a new reason for employees to get behind safety. The weekly video shows up via email. Supervisors play the 2-to-3-minute video from a mobile device or computer in a morning team huddle. And they follow it up with a conversation about this week's benefit and today's reason to get behind safety.
52 Benefits of Safety changes how your supervisors talk about safety with employees.
(Program launches December 2022)
How Did 52

Benefits

of Safety Come About?
Once you see the first few videos, it will not surprise you to learn that hundreds of front-line supervisors had input into this program.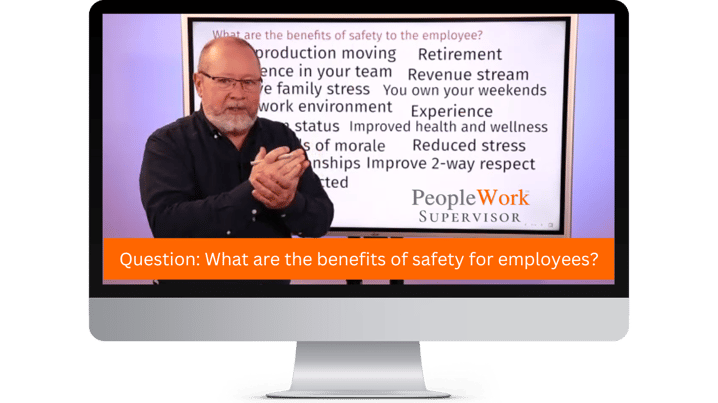 In our PeopleWork Supervisor program, Module 5 (Selling The Message of Safety) is dedicated to identifying the benefits of safety for employees. Between all of the companies we've worked with and the hundreds of supervisors who have had input into this program, we identified 52 separate benefits of why safety is good for employees.
Our client companies have told us they wanted more ammunition put in the hands of supervisors when it comes to having conversations that change how they talk about safety. So we created 52 Benefits of Safety for employees.
We set up the program to be delivered the easiest way to get to the front-line employees: email.
Open your email. Click the link. Play! It's just that easy.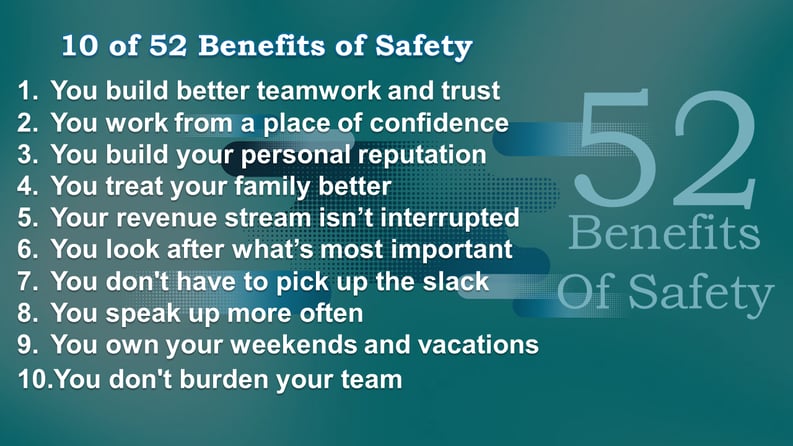 'Going Home Safe' Is

Not

A Benefit of Safety
When we say 'benefit' we don't mean tired old safety cliches. 'Going home safe' is not a benefit. It's what is supposed to happen. It's the least you're allowed to do by law.
52 Benefits of Safety makes it easy to create engaging, memorable safety conversations that employees actually look forward to. Because we focus on what they get out of getting behind the safety program.
You will want to get your hands on the valuable video series to start changing how front-line employees view their own roles in safety. Click 'Schedule A Call' to speak with us about 52 Benefits of Safety for your team.