The safety leadership program for front-line supervisors.
As the backbone of any successful safety program, competent supervisors play a vital role in achieving success. But technical knowledge is not enough. They need coaching and communication skills that will help them create trusting teams and drive improved safety performance.
That's where PeopleWork Supervisor comes in!
We provide an 8-week learning experience that delivers short videos every day as well as biweekly Zoom sessions hosted by Kevin Burns. Then, we follow it up with 44 weeks of ongoing video training – making it easier than ever for your frontline supervisory staff to reach top-level competency while keeping work overload manageable.
Watch the video below to see how the program works.

This program was such an eye-opener. This is some of the best training I've ever been involved with. - Ben O.
The skills employees want supervisors to have.
By enrolling them in PeopleWork Supervisor, your supervisors can gain the skills and knowledge to become exemplary safety leaders.
They'll gain the essential skills needed for successful coaching, motivation, communication, and trust-building that are vital to driving a culture of workplace safety -- plus how they can drive effective relationships within the organization as well!
Supervisors will also learn how to motivate themselves and others, develop trust within their team, and unite everyone around a unified goal of safe practices - all while mastering techniques for communication and staying alert against complacency.
Best of all? Your supervisors can take what they learn and apply it the same day.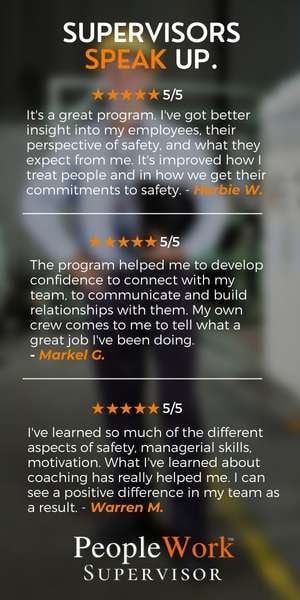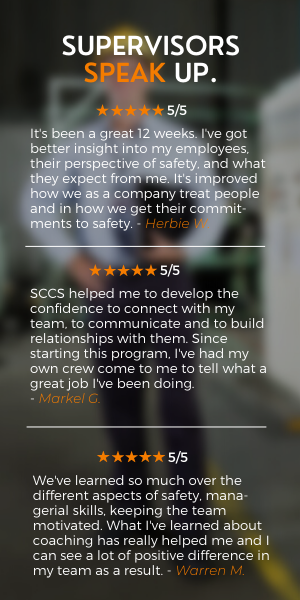 Why supervisors rate this program so highly.
PeopleWork Supervisor is a more effective way of coaching supervisors in leadership than the conventional approach of sitting them in a classroom and force-feeding them information.
Instead, we introduce only one new idea per day. Then, we let your supervisors get comfortable with the new technique before moving on to something else. Minutes after learning a new skill, they can go use it while it's still fresh.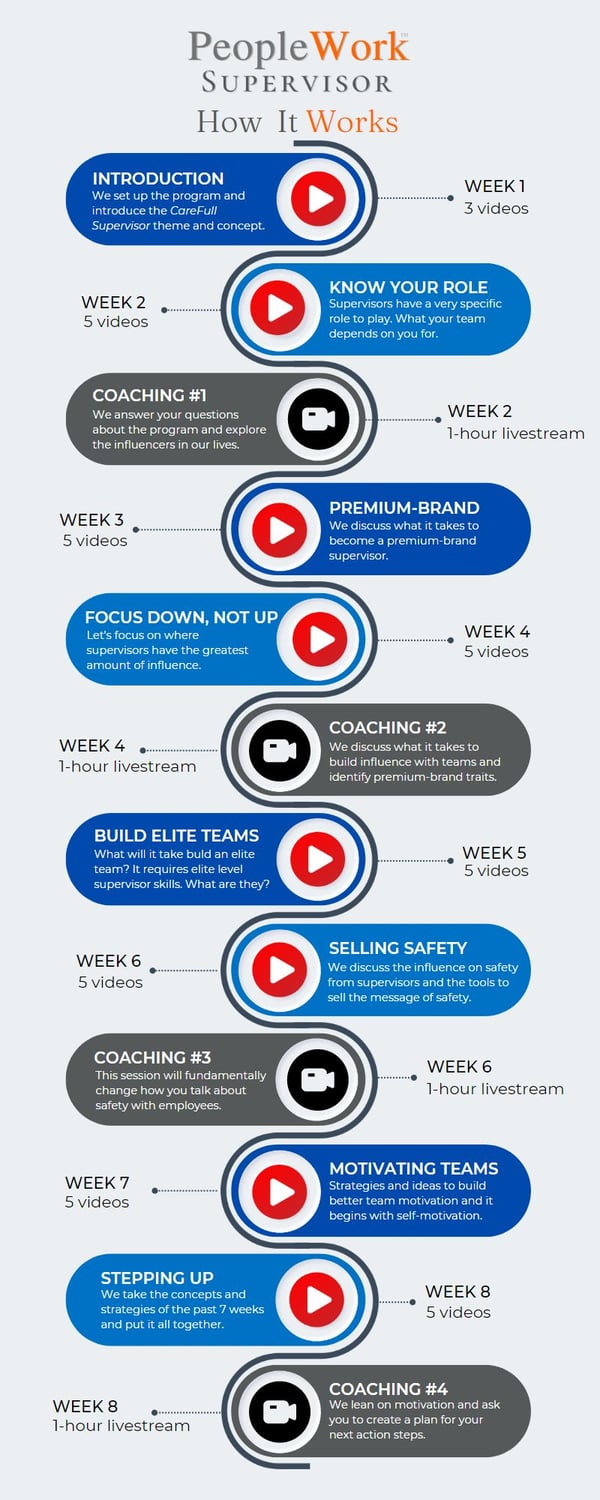 Kevin Burns facilitates each coaching session
Kevin Burns is a firm believer that safety should be seen as more than just compliance, but also an organizational tool to create positive change.
He has dedicated himself to developing a new way of viewing workplace safety through his international bestseller "PeopleWork: The Human Touch in Workplace Safety" and puts those ideals into practice by facilitating each coaching session with enthusiasm and genuine care for success.
Each day Kevin leads a new video topic and biweekly livestream Zoom discussions that encourage idea exchanges between supervisors so everyone can benefit from their collective wisdom!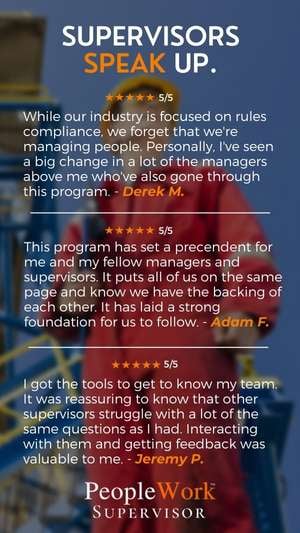 Try 5 for free!
You've read to the bottom of this page. It's held your interest. So, why not give it a try? Fill out the form below and get 5 of the PeopleWork Supervisor daily videos over 5 days. The first one, right away.
Fill out the form now and experience what your supervisors will get.