Get employee buy-in, build safety-focused teams, and connect hearts and minds in safety.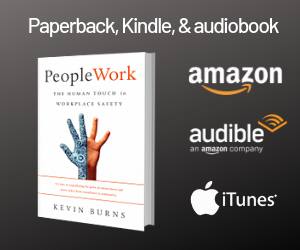 We know that employees and contractors should want to do safety voluntarily – not to be forced into it. But how is it done? There are ways to get good people to come to safety by their own choice. PeopleWork: The Human Touch in Workplace Safety teaches you how to connect with your people and lead them to do the right things without the need for being heavy-handed.
Safety has missed the mark.
Safety, as a compliance measure, doesn't grow respect because it's focused on rules, regulations, processes, procedures, and punishment. That's no way to grow a positive, team-focused culture.
You want to build solid teams of safety performers who care about each other, respect each other and look out for each other. You want to acquire the skills to make it easier to talk with them, to organize better safety meetings and to help them motivate themselves to exceptional safety performance.
Make a difference in safety.
All of these things together will help you create better buy-in to safety, a team focused on looking out for each other, and most of all, entire company dedicated to crushing complacency in safety.
This book contains over two decades of compiled experience from helping people just like you to become more effective communicators, coaches and leaders. Plus, it includes the mechanics of how to apply my proprietary M4 Method™ to connect employee hearts and minds in safety.
Get your signed copy of PeopleWork: The Human Touch in Workplace Safety now! Fill out the form and I will sign a personalized copy for you.
(Invoice will be sent to your email address for $19.95 USD plus $10 shipping. Bulk personalized books option available - copies for the whole team. Signed personalized copy of PeopleWork offer available only in Canada/USA.)