If you've ever needed a good argument for why safety is tied directly to profits, this book is it.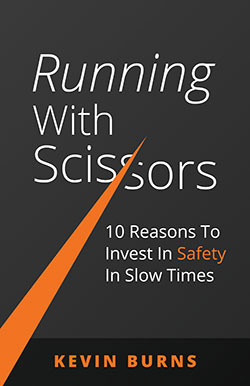 Many companies see safety as a cost of doing business or that which gets in the way when there is a production crunch on. It is also viewed as a program that is aimed squarely at boots – those who wear steel-toes.
Whoops! Big mistake.
Running With Scissors is a 60-page book that explains how no company can ever sustain long-term success by treating safety as purely an expense.
In this book, you will find 10 reasons to invest in safety in slow times, which includes:
Every company will spend on safety; some voluntarily, some against their will as the result of incidents. But the smart ones will get a return on what they spend.
Safety is a turnover reduction program as well as a recruiting tool to attract better talent. Becoming an employer-of-choice is tied directly to your safety program.
Safety can help every organization squeeze more profits from even reduced production.
No company can ever be successful without looking out for the safety and well-being of their employees - especially in an economic downturn. The best place to work is never the place that cuts its investment in safety. The best place to work is always the safest place to work.
Get your e-book now!
Also available on Amazon Kindle