Supervisors and safety people need good tools to help their people buy-in to the safety program.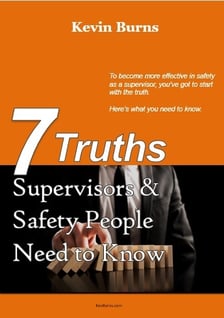 Good tools start with the truth. There are seven things that a good supervisor or safety person needs to know in order for them to do an effective job.
7 Truths Supervisors and Safety People Need to Know is a 24-page book packed full of ideas, tips and strategies, including:
what employees want from their job
want employees want from their supervisors
the paradigm-shift that will help any good supervisor set their people up to win
the six things that employees want more than money and how the supervisor helps them get it
and much, more...
As a management consultant for over twenty years, Kevin Burns has become one of the leading voices of better front-line supervisory and safety culture. First time or veteran supervisor, this book will help you develop better skills to be far more effective with your people and to gain their trust in helping you achioeve your safety goals.
7 Truths Supervisors and Safety People Need to Know will transform your focus on safety from a legal requirement to an opportunity to build solid teamwork, trust and respect as a supervisor and safety person. It will also help you to bring your team together to work better in being engaged in safety.