Positive speaking presentations that rally your team around safety
Your good people do good work. But, we know that people don't always follow safety procedures.
Perhaps a tune-up and a re-focus on safety is in order. Perhaps you want to congratulate your people for working so well during the COVID-19 crisis.
You already know that your people get tired of hearing the same voices talk about safety. So, let's mix it up. And let's shift up the approach.
Let Kevin wrap his message around your vision for safety and to reinforce the things you've been saying.
And then, let's make it positive and uplifting.
Respecting social distancing and no large gatherings, Kevin can deliver an uplifting, tailored presentation to your front-line people in an ONLINE presentation.
Safety leadership positively affects safety performance .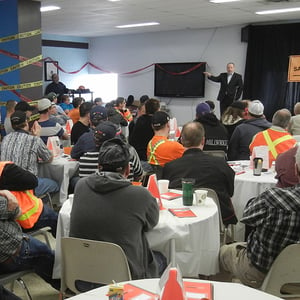 Bring your people together to talk positively about safety. NOT another hurt-at-work story from 20 years ago (seriously, is that still a thing?).
Professional coaches don't use their pre-game meeting with players to review rules or gut-wrenching stories of what went wrong years ago.
They use their meetings to get buy-in to the game plan: to motivate, and create a desire to be leaders.
Use your safety event as a rallying point to inject some energy and motivation into your safety program.
I have spoken to tens of thousands of front-line employees about the benefits of embracing safety and stepping up to be leaders in their own lives.
Let's talk about making this happen for your good people. Let's make safety a positive experience.
Update: Attention spans are much shorter when delivering ONLINE. Therefore, we have reformatted our front-line employee keynote presentations. They are shorter in duration but still deliver the same high level of engagement, energy and fun as the in-person presentations.
---
COVID-19: Important notice
Online program delivery sessions require logistics planning and technology. (Kevin uses Cisco Webex for his programs). In order to better accommodate client scheduling in different time zones, we no longer work through third party agents/bureaus. Please contact us directly. Kevin will respond personally within 24-hours.