Positive safety meeting presentations to rally around safety
Your good people do good work. But, we know that people don't always follow safety procedures.
Perhaps a tune-up and a re-focus on safety is in order.
You know that your people get tired of hearing the same voices talk about safety. So, let's mix it up. Let's change the approach.
Kevin Burns wraps his positive safety message around your vision for safety and reinforces the things you've been saying.
Your next safety meeting will be positive and uplifting.
Kevin delivers his safety meeting presentations to your front-line people streaming live ONLINE.
Safety leadership positively affects safety performance .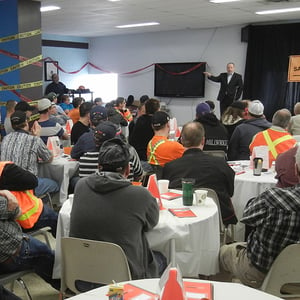 Bring your people together to talk positively about safety. NOT another hurt-at-work story from 20 years ago (seriously, is that still a thing?).
Professional coaches don't use their pre-game meeting with players to review rules or gut-wrenching stories of what went wrong years ago.
Use your safety meetings to get buy-in to the game plan: to motivate, and create a desire for employees to be safety leaders.
Inject some energy and motivation into your safety program.
Kevin Burns has spoken to tens of thousands of front-line employees about the benefits of embracing safety and stepping up to be leaders in their own lives.
Let's talk about making this happen for your good people. Let's make safety a positive experience.
Investment: $9,995.00