Overcome complacency fast with the Safety Complacency Strategy.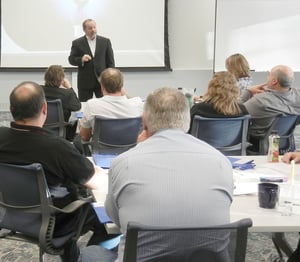 Complacency is not something you deal with on a part-time basis. You need a full-frontal attack. That starts first with a comprehensive plan to capture the hearts and minds of your people in safety. Then, complacency doesn't stand a chance.
By only focusing on rules, processes and procedures, you will not overcome complacency. That's because complacency is a mental and mindset issue. Complacency affects hearts and minds.
To overcome complacency, you can't just focus on safety numbers.
Safety numbers can be manipulated through sheer, brute-force enforcement. But that creates a lousy place to work with little trust and morale. Without trust and morale, complacency and apathy set in. And you negatively affect the level of buy-in of employees. In other words, strong-arm enforcement of safety rules can create the same complacency you want to eliminate.
Complacency isn't about numbers. It's about people. To eliminate complacency, you need a program that goes beyond appealing only to the brain logically. You need to get to the heart level as well. The heart level is where you improve morale, inspire teamwork, and build better communication.
Below is the battle plan to curb safety complacency in your organization.

This is the most complete program to overcome safety complacency.
The Safety Complacency Strategy program is based on the M4 Method™ as outlined in PeopleWork: The Human Touch in Workplace Safety. The M4 Method™ addresses four key elements: management, meetings, marketing and motivation. All four are critical if you want to overcome complacency while connecting hearts and minds.
Working with you and your organization over a 30-day period, here's how the Safety Complacency Strategy program works. We start with a war-room meeting of management, safety committee and safety department to discuss goals and targets to battle complacency. Then:
Week 1 - Marketing: internal marketing campaign and communications development to connect hearts and minds to the safety program
Week 2 - Meetings: review and overhaul of safety meetings to build better meetings participation and includes safety team coaching session
Week 3 - Management: supervisory skills training and creation of a schedule for rolling-out the complacency program to front-line employees
Week 4 - Motivation: full staff safety stand-down/event (includes Kevin Burns keynote ) and program roll-out with senior management participation
Now, just think of what your organization will be able to accomplish in 30 days of focused intensity.