Welcome to the Safety Communications & Coaching for Supervisors Program
Front-line employees follow the example of their immediate supervisors. No influence on the frontline employee is stronger than that of a front-line supervisor.
Smart, caring companies want to ensure that their frontline employees build a strong affinity for safety, and to do that, supervisors must willingly step into their roles as key influencers in safety.
Safety Communications & Coaching for Supervisors Program (SCCS) was created from a basic premise: "Employees do what supervisors do."
Sample the learning materials for yourself. Module 1 is a free preview. Click Access The Free Preview below.
Employees want more than just technical skills from supervisors.
A survey of 38,000 employees found that employees overwhelmingly want to work with supervisors who have the skills to coach (#1), empower (#2), demonstrate care for the employee (#3), and communicate well (#5).
Technical expertise finished dead last in importance (#8/8).
The SCCS Program equips supervisors to acquire the very skills that employees want most from them.
The SCCS Program in 3 parts.
The standalone SCCS course (at KevBurnsLearning.com) is the first of three main components of this 12-week program. However the SCCS Program offers much more than the standalone SCCS Course.
As part of the SCCS Program, Kevin Burns facilitates the first group through the full 12-week program while training his replacement (your in-house facilitator) for subsequent groups. We want you to be able to take full ownership of this program throughout your organization.
The facilitator controls the pace, the timing, the interactions, and the follow-up during the SCCS Program.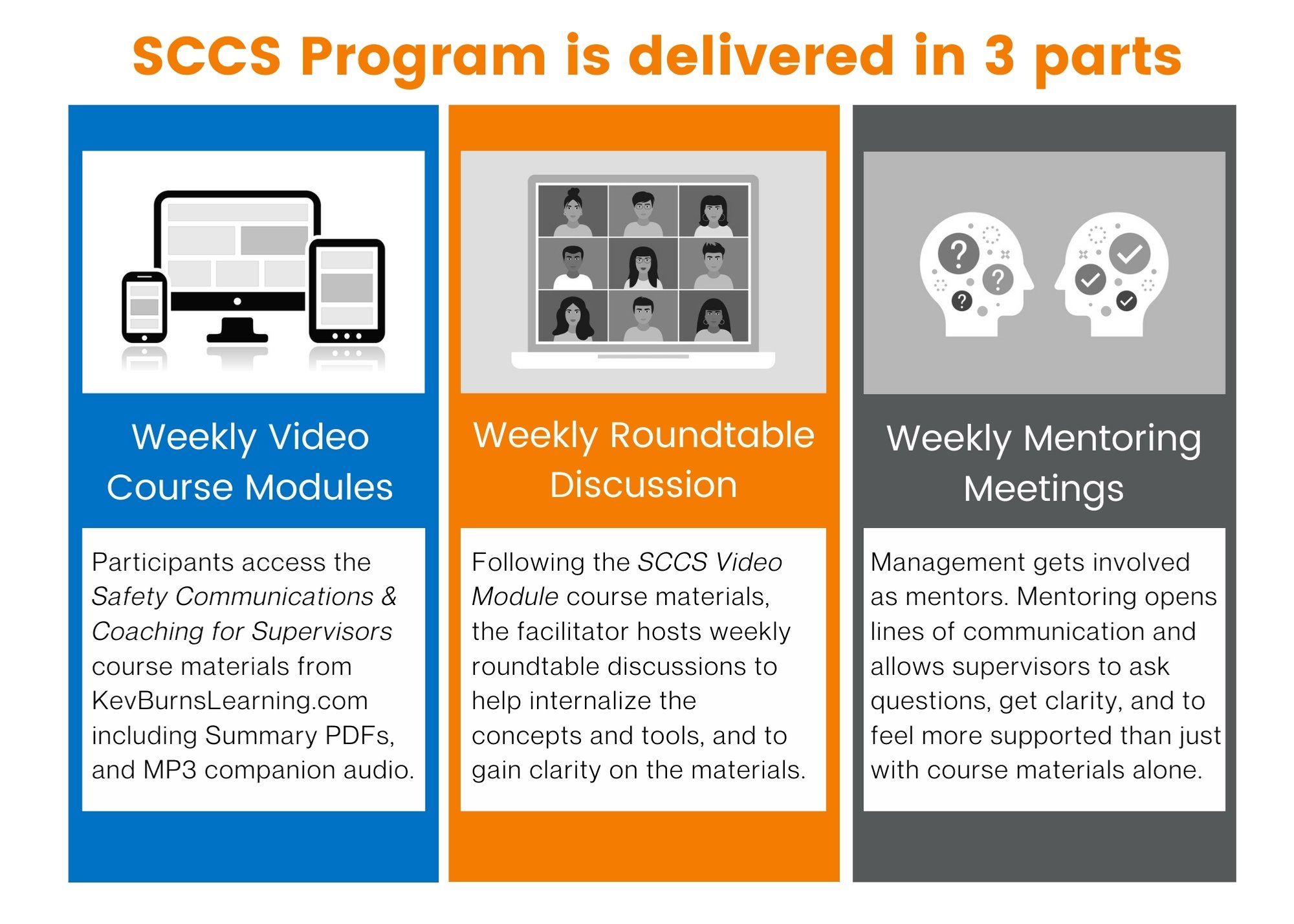 Sample the learning materials for yourself.
Here is how the 12-week SCCS Program is delivered.
Mondays (Weeks 1-12) - Video Learning Modules: There are six weekly 30-45-minute online video learning modules during this program. Once all six weekly modules have been completed, we review the modules again during weeks 7-12. This ensures that the materials are reinforced over a longer period of time. (Included: downloadable PDF Summary documents, informational supplements, and a companion MP3 audio recording of each module for review on-the-go).
Note: You decide on the day of the week that works best for you. Monday is an example.

Mondays (Weeks 1-12) - Post-Module Roundtable Discussion: A 45-minute group discussion follows each module. These discussions are conducted by the SCCS Facilitator. All conversation starters/questions are provided in the SCCS Facilitator's Guide (provided).
Wednesdays (Weeks 1-12) - Mentoring Program: A weekly mentoring session with a manager for approximately 15-30 minutes. Mentoring meetings allow supervisors to gain clarity from a trusted advisor.
Fridays (Weeks 1-12) - End-of-Week Check-in: A weekly informal check-in by the Facilitator with each supervisor individually (for 5-10 minutes).
Bonus Week 13 - "Now What?" Session with Kevin Burns: (*Optional) As a final wrap-up, a "Now What?" online session with Kevin Burns and your own SCCS Program Facilitation Team. This is a large Q&A session for participants in the SCCS Program.
Additional components of the SCCS Program
Certificate of Completion: Upon completion of Modules 1 through 6, each participant receives a completion certificate suitable for hanging on a wall.
Facilitator Coaching and Support: Kevin Burns provides full facilitation services directly with your first group of participants. At the same time, Kevin provides ongoing coaching and support to your organization's own SCCS Program Facilitator by phone, email and videoconference.
Facilitator's Guide: The SCCS Facilitator's Guide provides all interactive conversation starters, questions, mentor program conversation starters and copies of all Summary Sheets for each Module.
What supervisors will learn in the SCCS Program.
key strategies to transform themselves into effective supervisors,
tools to build a cohesive team willing to look out for each other,
strategies for creating employee buy-in to the safety program,
tools and techniques to keep their teams from slipping into complacency,
techniques and strategies for self-motivation and team motivation.
Who is SCCS for?
SCCS is for anyone whose job responsibilities include safety, teamwork, communications, or motivation. In other words, the SCCS Program is designed for anyone who oversees other employees.
New or experienced, supervisors will learn to act with confidence, and to get the trust and respect of their crews. This leads to raising your credibility as a supervisor and building a safety-focused culture.
Investment: $14,995
(for up to 100 supervisor participants in first year enrolled in the SCCS Program. Kevin Burns provides full facilitation for your first group of supervisors through the full 12-week program.)
** If you would like Kevin Burns to facilitate subsequent 12-week programs with different groups of supervisors, add $5995.00 per 12-week program.