A leadership program that equips supervisors to create safety-focused teams.
Every company needs a strong safety program. But without competent supervisors who are prepared to lead the program on the ground, it's impossible to be successful.
Supervisors need more than just technical knowledge. They need coaching, communication, and empowerment skills. The skills to build teams, create trusting relationships, and motivate their teams in safety.
But what if supervisors don't have those skills?
Without leadership skills, how can supervisors be expected to be leaders in safety?
Safety Communications & Coaching for Supervisors Program (SCCS) is a 12-week program consisting of video modules covering safety leadership, effective communications, and coaching. Then, we follow-up the modules with live, facilitated roundtable discussions on the learning materials, as well as topics that affect supervisors most.
We make sure that every supervisor in the program comprehends the tools. And because we do it every week, your supervisors can take what they learn and apply it the same day.
It's everything you need to rocket your supervisors to the next level.
The SCCS learning modules explained.
Sample the learning materials for yourself. Module 1 is a free preview. Click Access The Free Preview below.
Why your supervisors are not meeting their team's needs.
The Project Oxygen survey of 38,000 employees found that employees overwhelmingly want to work with a supervisor with the following skills:
is a good coach

empowers the team

demonstrates care for the employee's safety

is results-oriented

communicates well

supports career development

has a clear vision/strategy for the team
Technical expertise finished almost dead last in importance (#8).
Funny, most supervisors become supervisors solely by their technical expertise.
So, where does that leave employees who want more than just technical expertise from their supervisors?
The SCCS Program equips supervisors with the leadership skills employees want most from them.
After successfully completing the Safety Communications & Coaching for Supervisors Program, your supervisors will possess the tools and skills to support the safety program, coach their teams, and be shining examples of safety leadership. Here are just some of what they will learn:
key strategies to transform themselves into effective supervisors,
tools to build a cohesive team willing to look out for each other,
methods for creating employee buy-in to the safety program,
skills to communicate effectively with their team on safety,
techniques to keep their teams from slipping into complacency,
blueprints for self-motivation and team motivation,
the confidence to build effective relationships, build trust, and promote safety,
the leadership skills to be able to move up within the organization.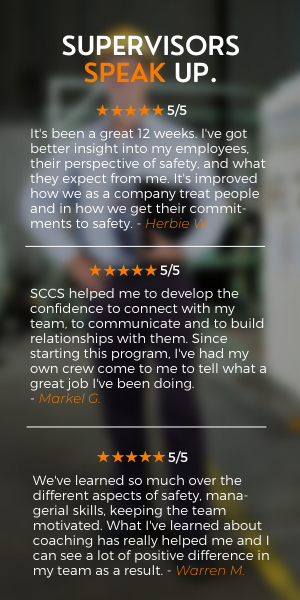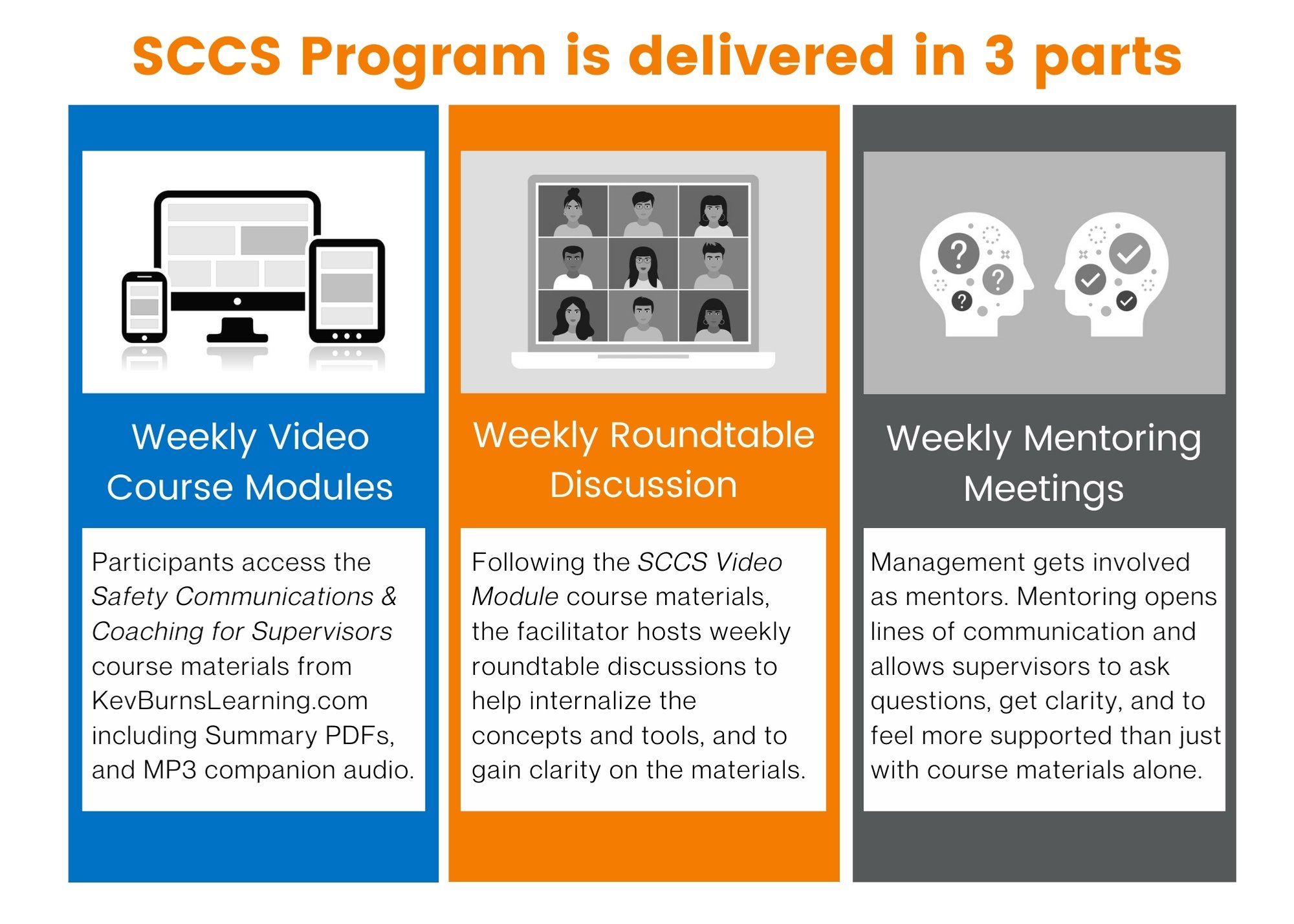 Why supervisors rate this program so highly.
No one has more influence on the day-to-day activities of front-line employees than supervisors. With 30+ years of experience in management and communications (with a focus on safety), we have seen how safety leadership for supervisors can be used as an organizational lever to create real, lasting change.
SCCS is a more effective way of coaching supervisors in leadership than the conventional approach of sitting them in a class and force-feeding them information.
SCCS utilizes the techniques of professional coaches who train their athletes to work on one thing at a time. We let your supervisors get comfortable with the new techniques each week before moving on to something else.
This is the reason why the supervisors we've worked with rate this program so highly. The same day they learn a skill, they can go use it an hour later, while it's still fresh.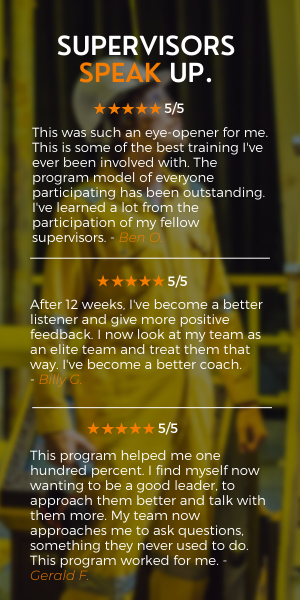 Here is what we cover in the 12-week SCCS Program.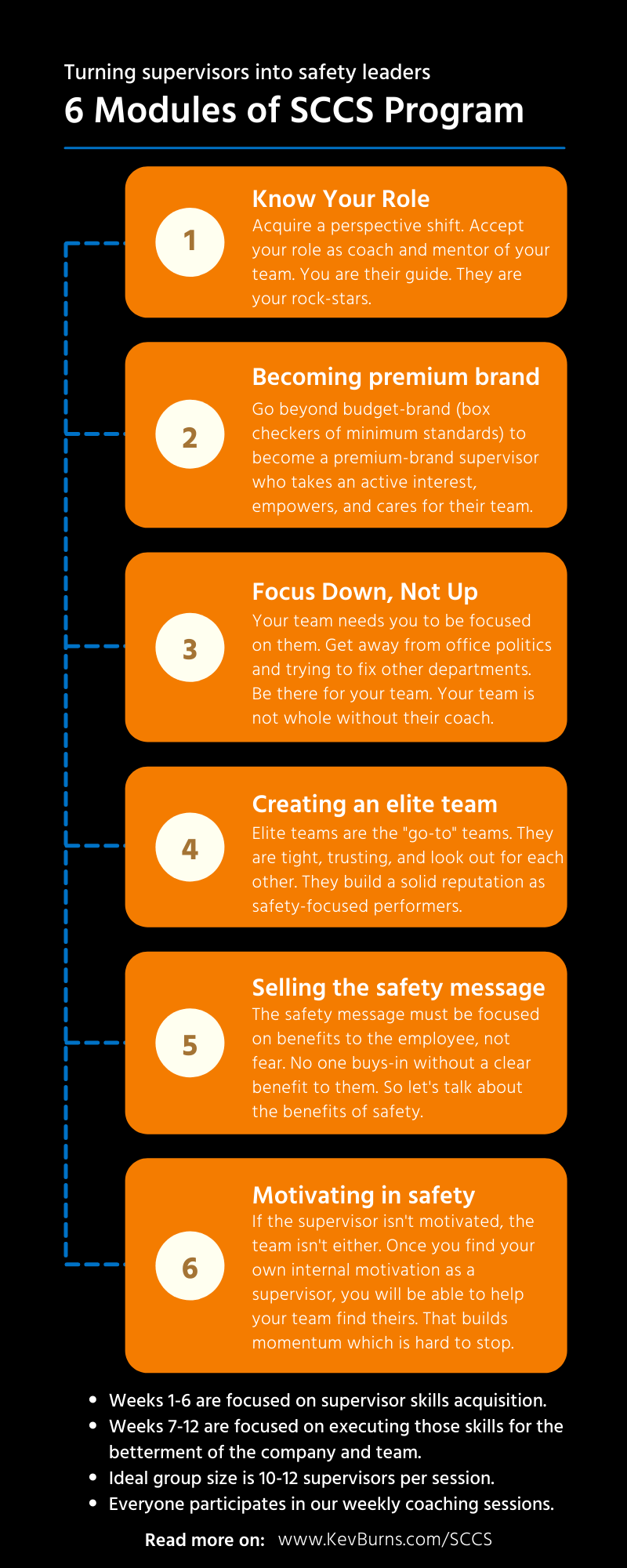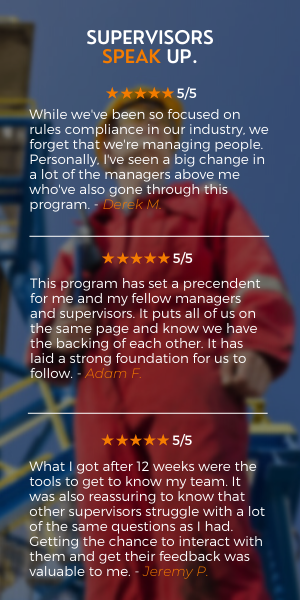 Who is the SCCS Program for?
The program is designed for supervisors at any stage of their career, including:
Front-line supervisors
Foremen, lead hands
Mid-managers/safety personnel
Those with the potential to move into supervisory.
Kevin Burns facilitates each coaching session
In the past, safety was traditionally viewed as a compliance issue (it still is for many companies, sadly). But Kevin saw the potential for safety to be used as an organizational lever to shift safety culture.
It's not just about teaching employees how to use PPE or keeping them safe from harm—it's about changing their core attitudes about how they view safety.
Author of the international bestseller, PeopleWork: The Human Touch in Workplace Safety, Kevin personally leads each roundtable discussion, answering questions, encouraging ideas exchanges, and getting every supervisor to participate fully.
So, how did the SCCS Program come about?
Years ago, while preparing to deliver a presentation at a safety meeting, Kevin listened to a management team lament the recent departure of one of their top supervisors. But it wasn't just the supervisor who left. In the 90 days following the departure of their supervisor, all ten members of the supervisor's team handed in their resignations and joined their old boss at a new employer.
Kevin wondered: "What would make ten employees leave a good job to join an old boss at a new employer? What kind of supervisor can make that happen?"
That began a journey into what is now Safety Communications & Coaching for Supervisors.
Your supervisors deserve to get the best skills available to lead their teams to safety.
Click the "schedule a video call" button below to get your supervisors on the journey to safety leadership.