Is your current safety program really capturing employee hearts and minds?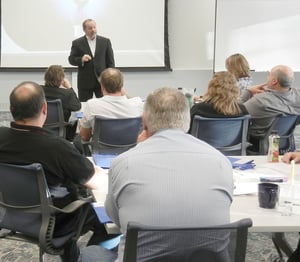 You can do safety with mediocre results and not have your heart in it. You see evidence of that every day. But when your heart is in it, you don't have to convince your brain. When your heart is in it, your mind follows along.
It's time to re-think how you connect employees to your safety program. Improve how you supervise, how you communicate, how you care about your team and how you demonstrate their importance and their safety.
That's what The Hearts & Minds Strategy does. It helps you to connect your employees with safety and captures their hearts and minds.
To capture hearts and minds, you can't just focus on safety numbers.
Safety numbers don't appeal to the heart. Numbers are logical. So, when you tie your safety program to numbers, you ignore the emotional part of employee buy-in: the heart. Oh sure, the numbers alone can be improved through sheer, brute-force enforcement. But that creates a lousy place to work with little trust and morale. Without trust and morale, employee hearts are not in their work.
Safety isn't about numbers. It's about people. You need a program that goes beyond appealing only to the brain logically. You need to get to the heart level as well. The heart level is where you improve morale, inspire teamwork, and build better communication.
The Hearts & Minds Strategy does exactly that.
This is the most complete program to capture hearts and minds.
The Hearts & Minds Strategy is based on the M4 Method™ as outlined in PeopleWork: The Human Touch in Workplace Safety. It addresses four key elements: management, meetings, marketing and motivation. All four are critical if you want to connect hearts and minds in safety.
Here's how The Hearts & Minds Strategy program works. We start with a round-table meeting of management, members of the safety committee and safety department to discuss goals and targets. Then, in the following 30 days, we get to work on:
Week 1 - Marketing: internal marketing campaign and communications development to connect hearts and minds to the safety program
Week 2 - Meetings: review and overhaul of safety meetings to build better meetings participation and includes safety team coaching session
Week 3 - Management: supervisory mindset training and creation of a schedule for rolling-out the Hearts & Minds program to front-line employees
Week 4 - Motivation: full staff safety stand-down/event (includes Kevin Burns keynote ) and program roll-out with senior management participation
You are just 30 days away from capturing the hearts and minds of your employees in safety. Lets talk.