A supervisor who cares about their team, cares about their safety.
A 20-year trades ticket or 20 years of job experience essentially becomes useless the moment a frontline employee becomes a supervisor. Not that 20-years of experience will no longer be needed, but largely a supervisor does not do the frontline work anymore.
They now supervise frontline work. And that requires a completely different skillset.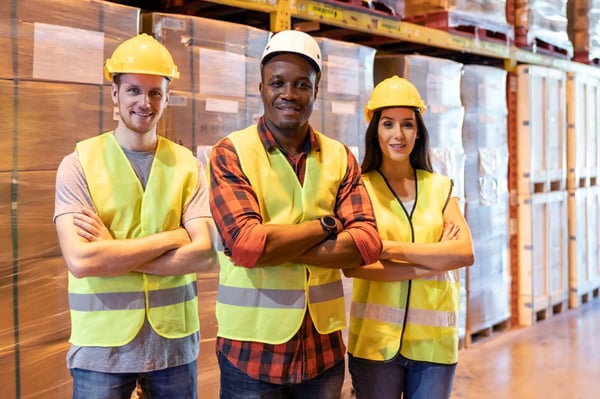 Effective supervisors need coaching skills, communications skills, people skills, management skills, leadership skills. Eighty percent of a supervisor's day is spent coaching, communicating, managing, leading, and dealing with people.
So, when companies promote one of their frontline employees into a supervisory position, are they setting that supervisor up to win?
Clarifying questions to select a supervisor.
Before you select your next supervisor, ask yourself and your organization these questions:
Are we clear on the specific skillset that we want our ideal supervisor to possess?

Have we articulated that skillset and committed it to a selection process to hire the right supervisor, and not the longest-tenured employee?

Has the candidate already demonstrated leadership, teamwork, work ethic, and the ability to communicate well?

Are we prepared to support our existing supervisors in acquiring the skills and character traits to help them meet a higher standard?
When it comes to selecting the right supervisor, serious thought is required. Since the supervisor is the company spokesperson at the frontline, a frontline supervisor needs to align with the company values.
A frontline supervisor needs to embody the traits, skills, and image that the organization would like to project to their employees.
Below are five of the most necessary skills and traits an ideal supervisor should possess.
Respect:
If the other members of the organization do not respect the candidate, promoting them to a supervisor will not improve that. In fact, it may likely degrade the culture of the organization.
And if a candidate has difficulty giving or demonstrating respect (to others, to co-workers, to the company), they are simply the wrong choice.
Focused on Others:
Supervisory is not about how good the supervisor used to be at the job. It is about how good employees are going to be able to perform with that supervisor leading the team.
As discussed at length in the Safety Communications & Coaching for Supervisors Program, the role of supervisor is not to be the hero. The role of the supervisor is to be the guide. The best supervisors are focused on helping each individual member of their teams to continuously improve and achieve.
Safety Gene:
When someone is others-focused, it is impossible to not own the safety gene. Safety is how we show that we care for our teams. A supervisor who cares about their team, cares about their safety. A supervisor with strong safety values will convince others to do the same.
No one in the organization has more influence over the behaviors of frontline employees than a frontline supervisor. Employees do what their supervisors do. Supervisors need to own the safety gene.
Quality:
There is no pride in work unless special attention is paid to the quality of your work. When quality becomes a mindset, there are no shortcuts anymore. There are no do-overs because it gets done right the first time. And if the result of the job is going to be right, how you do the job is also going to be right.
A right mindset results in quality outcomes. Where there is quality, there is pride. And where there is quality and pride, there is safety.
Approachability:
Employees rarely leave a job because of the company or the senior leadership team. An employee leaves most often due to a malfunctioning relationship with their immediate supervisor. Employees want to be able to approach their supervisors to ask questions, offer suggestions and know that the supervisor stands up for them and the rest of the team.
Management and the safety department also want to be able to approach a supervisor without getting pushback and attitude. A supervisor who cannot be approached does not lead a team. Overwhelmingly, employees want to feel valued and valuable. An approachable supervisor facilitates that.
Do not make this mistake.
This is not an exhaustive list. There are so many other traits, skills and characteristics that could bolster frontline teams. It is important that your company decides for themselves, the traits, skills, and characteristics they would like to see coming from all supervisors.
Now here is where an organization must be careful. When determining the characteristics, traits, and skills of your ideal supervisor, do not view these through the corporate lens. View them through the eyes of your frontline employees.
What are the skills, traits and characteristics that frontline employees would want their supervisors to have?
What would cause employees to respond favorably in their daily interactions with their immediate supervisor?
Employees who look favorably at their workplace, are more willing to work as a team and remain loyal to that workplace. When employees care about their workplace, they are willing to stand up and protect it. Good safety performance results.
Since all initiatives, policies, process, and procedure are facilitated through the supervisor, including safety, the supervisor needs to embody the values of the organization.
As noted above, employees do what their supervisors do. It is the very reason we created the Safety Communications & Coaching for Supervisors Program (SCCS), a 12-week internal training program in which someone within your organizations acts as the facilitator. You control the pace, the interactions, the communications, the conversations. To get all the details click below.
--
Kevin Burns is the President/CEO of KevBurns Learning. Kevin works with smart, caring companies to energize safety culture, build teamwork, and get employee buy-in.
--
In 2020, BookAuthority.org named PeopleWork #7 of The Top 44 Workplace Safety Books of All Time. Buy yourself a copy of PeopleWork: The Human Touch in Workplace Safety and give another as a gift to a colleague.
--
Subscribe to Kevin's Blog.