PeopleWork: The Human Touch in Workplace Safety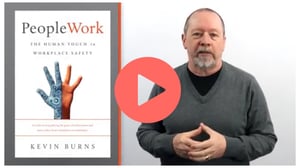 Employees and contractors should want to do safety voluntarily - not to be forced into it. But that's not how it usually works. And that frustrates you.
After all, you want to be a respected safety leader. You want to be able to connect with your people and lead them to do the right things without being heavy-handed.
But safety has been driven as a compliance measure. Rules, regulations, processes, procedures and, ultimately, punishment.
---
"There are so many exceptional concepts presented in this book that it should be recommended by companies as reading material to all supervisors and managers."
---
You know there is a better way to get good people to come to safety by their own choice. But, to be effective, you need better skills; people skills. Skills that help you to connect with them, to earn their trust and respect.
You want to build solid teams of safety performers who care about each other, respect each other and look out for each other. You want to acquire the skills to make it easier to talk with them, to organize better safety meetings and to help them motivate themselves to exceptional safety performance.
---
"I highly recommend this book to safety professionals
that have a desire to lead from the heart."
---
In PeopleWork, you will learn:
How to build better working

relationships

Strategies to build better, more

engaging safety meetings

Strategies to create

employee buy-in

to the safety program
How to build a successful

safety communications

strategy
How you can build better

influence

with your people
And so much more
PeopleWork: The Human Touch in Workplace Safety is the book that helps you become a more effective safety leader.
It picks up where compliance programs leave off and instead, focuses on people; your people.
For twenty years, author and management consultant, Kevin Burns has been helping people just like you to become more effective communicators, coaches and leaders. Now, the strategies he uses with his clients, he has put into PeopleWork. Let this book help you become a respected safety leader.
---
"Great book and insight into to the person-to-person aspects of safety
and brings in the "why" of safety leadership!"
---
Don't wait any longer. Increase your effectiveness as a safety leader. Get your copy of PeopleWork: The Human Touch in Workplace Safety now!


Now also available as an Audiobook
Large volume discounts are also available.
Go to the Contact page and click "Bulk Book Sales"
from the dropdown menu.