What would it take for your team to perform better in all things including safety? And are you the person who can get them there?
Elite teams are specialists. They are counted on to get things done. They are highly trained and highly motivated, and they are professional in every sense of the word. You can trust what they will do next based on their history of being near perfect in their execution in past.
The Navy Seals is one of those elite organizations. They take people from their ordinary ranks, the US Navy, and built a solid team of high performers out of them, an elite team. The Seals are so revered that others want to be part of it and will go through great difficulty to make the cut.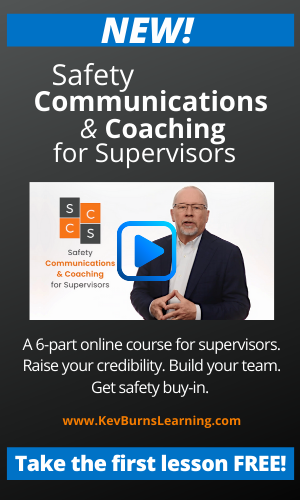 Now here's the interesting part and it may be applicable to your industry. The bar for admissions into the Navy is not set as high as the bar set for admission into the Seals. You can join the Navy but still not make the Seals. The Seals are the elite squad. They demand a much higher standard. And to make sure that their applicants understand the standard, they put them through a grueling training program. Most can't take it and drop out. The ones that do make it are vetted for a fit with the rest of the team. When the rest of your team is going to depend on you, your team wants the right person to be chosen.
Now, while you are probably thinking that your team is not likely going to be sneaking into far-off countries to deal with international bad guys, there are still some things to be learned from the Seals about elite teams.
If you'd like to get started on improving your ability to lead your team, then take the Free Preview of the Safety Communications & Coaching for Supervisors course. 40-minutes of video instruction, summary sheet download PDFs and a companion MP3 audio version to take with you on the go. And it's free to get started.
Elite teams exist in every industry.
There are plenty of examples of high performance, elite teams in every industry. There are the smokejumper firefighters who parachute into blazing forest fires. There are high-altitude fire teams who battle high-rise building fires and conduct high-altitude rescue. There are specialist teams in mill shutdowns and turnarounds. There are specialist companies who build and maintain remote airstrips for mines and remote communities. Pick an industry and you can identify elite teams and companies that do specialized work.
Every elite-level team has an elite-level leader who guides and coaches their teams to exceptional performance.
When these elite-level organizations build and cultivate that elite team mindset, they develop a reputation. It's a reputation of being the go-to organization to solve a problem or to execute with precision in a short timeframe. And that reputation creates a high-level expectation: that if you want to get something done right, you choose the elite squad.
The leader of elite teams.
Every elite squad has a focused leader. That leaders needs to build his or her team into exceptional performers who get the job done, who do it with the highest quality and the lowest number of incidents or safety concerns.
Elite teams always have an elite level coach who guides and coaches their teams to exceptional performance. Never does a team become an elite team without having an elite level leader. Every good team needs a coach. The coach's job is to inspire and motivate their teams to want to be better, to come together as a unit and to build a reputation for high-level performance.
Elite teams build a reputation.
Companies don't build a reputation as a high-performing, elite organization if bare minimums are the target. That is especially true in safety performance. Flirting with the bare minimum of safety causes you to be one bad test away from a failing grade.
Even in high school, the "D" students are never the elite team. The elite teams are the small groups of very high performers who are focused on setting themselves up for easy admission to the top universities.
It is impossible to build a reputation of high-quality work and performance while employing low standards for safety.
That same mindset of rising to a higher standard is what separates the mediocre teams, companies and management from the higher-performing ones. It is impossible to build a reputation of high-quality work and performance while employing low standards for safety. An elite-level reputation is built on quality, motivation, teamwork and safety performance.
Your elite-level challenge.
Even within an ordinary organization, there are pockets of elite-level performance. And each one of those elite teams is led by a coach, mentor and supervisor who holds their team to a higher standard.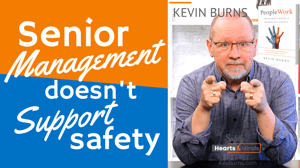 In my blog and video post, Senior Management Doesn't Support Safety, I wrote, "Safety culture and performance is created and changed at the supervisor-to-employee level." Each team within the organization only performs as well as its supervisors. Safety performance can vary from one team to the next, one supervisor to the next. Before the team buys-in to safety, the supervisor must buy-in first.
You have to decide whether or not you want to build your own reputation as an elite-level leader and coach, before you can even begin to move your team toward elite level status. If you, their coach, are not willing to do the work, no matter what kind of team you have assembled, they will never become elite level. They need an elite level leader to show the way. And if the leader lacks the skills or the motivation to be that elite level leader, the team will never get there. Worse off, they will lose faith in their leader. When employees lose faith in the team leadership, safety incidents are not far behind.
So, here are three questions for your self-consideration:
Are you the leader your team needs?
Can your team become elite level performers with you as their leader?
Are you willing to do the work and to invest yourself in becoming an elite level leader?
All three are yes or no questions.
--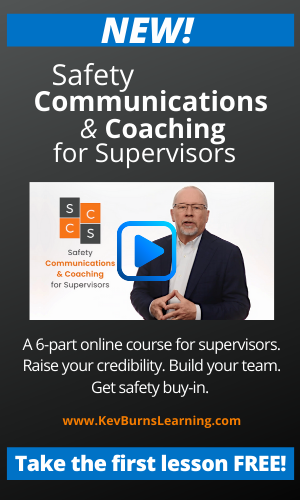 Take the FREE preview lesson of Kevin's course Safety Communications & Coaching for Supervisors. 40-minutes of video instruction, summary download PDFs and a companion audio MP3 version to take with you on the go. SCCS is an online course to help energize safety, build teamwork, and get employee buy-in.
Kevin Burns, consultant/author, works with smart, caring companies to energize safety culture, build teamwork, and get employee buy-in. KevBurns Learning is committed to to helping companies improve safety by improving people, through creative learning materials, virtual strategy sessions, safety meeting presentations, and team coaching programs.
In 2020, BookAuthority.org named PeopleWork #7 of The Top 44 Workplace Safety Books of All Time. Buy yourself a copy of PeopleWork: The Human Touch in Workplace Safety and give another as a gift to a colleague.
Subscribe to Kevin's YouTube channel.
Subscribe to Kevin's Blog.