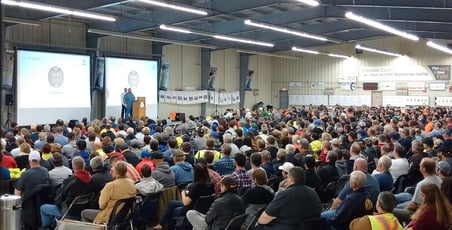 Red Lake Gold Mines took part in Goldcorp's company-wide Day Of Remembrance Safety Day across all operations on October 06, 2016. Red Lake Gold Mine's event took place at the Red Lake Curling Club in Red Lake, Ontario. As part of their day-long safety focus, Kevin Burns was invited to speak on Safety Leadership as part of the wrap-up to the day's events.
RLGM's new Mine General Manager, Bill Gascon, is a strong proponent of safety having been a miner himself. Goldcorp's Executive Vice President and Chief Operating Officer, George Burns (also a former miner), attended the event on behalf of Goldcorp's Head Office in Vancouver. Burns and Gascon hosted the event along with Loye Halteman, Safety and Training Superintendant at Red Lake Operations. (Bill Gascon is featured in photo speaking on-stage with George Burns in white shirt).
Kevin Burns closed the event with his presentation on Safety Leadership that referenced and tied together many of the speakers and presentations throughout the day. Kevin, who attended the whole day's events, wrapped the day up in a thought-provoking and inspiring presentation that drove home the theme of the event: "Speak Up."
To learn more about Red Lake Gold Mine's Operations, go here.
Kevin Burns helps organizations integrate caring for and valuing employees through their safety programs. In addition to working with and facilitating discussions between all levels of management and supervisory, Kevin can also give engaging, entertaining and inspiring presentations to front-line employees at safety meetings. Kevin Burns is a management consultant, safety leadership speaker and author of 9 books. He is based in Calgary, Canada.